As well as Tom Hardy, there are a number of celebrities that have shown their love for BJJ. Guy Ritchie started his Jiu-Jitsu journey in the early 2000s after watching Helio Gracie in the documentary "Choke". He started off training with Mauricio Gomes, and then with Roger Gracie in London, before moving to New York and being taught by Renzo Gracie. Ritchie received all his belts from Renzo and earned his Black Belt in 2015!
Ed O'Neill, best known as Al Bundy in Married With Children, is another black belt in our sport! He started training BJJ in the 1980s and received his black belt after 16 years of training under Rorion Gracie. You can also see him featuring in some of Rener Gracie's Gracie Breakdown Videos, where Rener breaks down techniques seen in videos or in MMA events.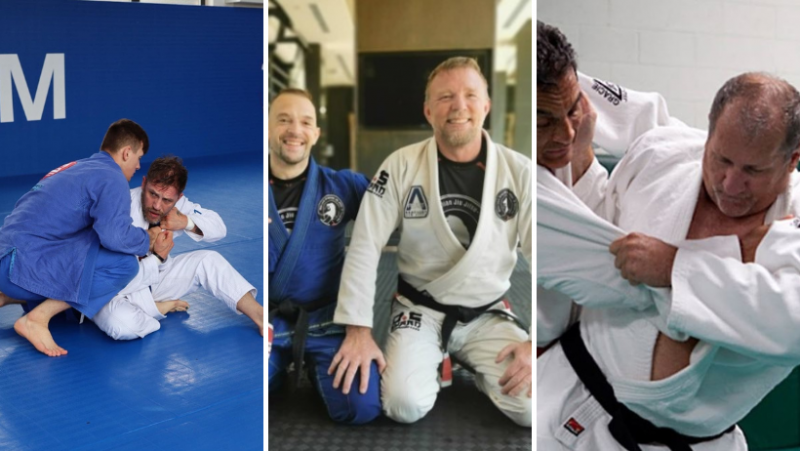 In the brown belt category we have Ashton Kutcher, Hollywood star of that 70's Show. Kutcher started training in 2012 and received his Brown Belt in 2019 from his longtime mentor Rigan Machado. He has been seen training with high level athletes like Craig Jones and UFC fighter Paulo Costa. He has a strong wrestling background which has been said helped him to quickly come to grips with learning BJJ.
Two more well known celebrities who have stuck at their Jiu-Jitsu journey and have earned their Purple belts are Jason Statham and Russell Brand! Statham has been training inconsistently for over 10 years due to a hectic schedule, receiving his Purple belt from Renzo Gracie. He has been seen posting about training his Jiu-Jitsu in preparation for films like Hobbs & Shaw.
Russell Brand started his training in 2016 and has been endorsing the art ever since. Brand is very open about the benefits of BJJ and how it has changed his life and talks about it a lot on his Youtube channel. He trains under Roger Gracie black belt Chris Gleere and was awarded his purple belt in 2021.
Another actor to win gold in competition is Gracie Barra blue belt and Saved by the Bell star Mario Lopez! Lopez has a background in wrestling from when he was younger and also trained in Karate and Boxing, so he has always had a connection with martial arts. He found Brazilian Jiu-Jitsu in 2017. He first competed at the IBJJF Phoenix open, and although saying that would be his last competition, he ended up competing this year alongside his son at the Gracie Barra CompNET in California. Lopez won gold in his division while his son won bronze. 
These are just a few of the celebrities who train Brazilian Jiu-Jitsu, it's great having these well known people talking about our sport and its benefits to your life. People may only find out about BJJ through their exposure to celebrities like this, and we can't wait to see it continue to grow and positively impact as many people's lives as possible!